The Eclipse pins five SNO badges
Hang on for a minute...we're trying to find some more stories you might like.
The Eclipse has received its fifth badge from School Newspapers Online.
SNO is a company that host's high school and college online student news sites. In addtion, SNO helps student news sites across the country by providing data, offering help with online formats and tools, and rewarding news sites with awards and badges.
When individual journalists and student news sites, as a whole, do their job well, they are recognized by SNO. This recognition can come in the form of certificates, acknowledgment on SNO's website, stories on the national news site Best of SNO, and in The Eclipse's case, badges that can be placed on the news site's website.
The badges are as follows: the continuous coverage badge, the story page excellence badge, the excellence in writing badge, the site excellence badge, the audience engagement badge, and the multimedia badge.
The Eclipse has been awarded every badge except the multimedia badge, since the newspaper does not upload videos to its site.
Editor in Chief Brianna Horne is proud the staff's hard work has paid off.
"I feel extremely accomplished to have achieved all of the five badges we aimed to receive," Horne, a senior, said. "I think I can speak for all of us at The Eclipse in saying that."
Some badges were easy to acquire, like the story page excellence badge, while others proved more difficult for reports and editors to obtain, like the excellence in writing badge.
"While it was a challenge to get any of the badges, the hardest badge had to be the excellence in writing badge, which was the last badge we were able to receive," Horne said.
Managing Editor Jenna Robinson agrees with Horne, and is elated about The Eclipse's success.
"The requirements for this badge (excellence in writing) was to have three stories from our site receive Best of SNO, which proved difficult because it was out of our hands once we submitted them," Robinson, a junior, said. "I submitted a ton of stories, and I know Mr. (Darrick) Puffer and other writers did, too. So I'm really happy we were able to get three that were recognized."
Puffer advises The Eclipse.
Only three other Michigan high schools have been awarded badges, including Fenton, Forest Hills Central, and Portage Northern high schools.
"
I couldn't be more proud of everyone and the work they've all put in this year."
— Jenna Robinson, managing editor
KHS has the most badges with five, while Fenton has two, Forest Hills Central has one, and Portage Northern has two.
Robinson is thrilled that the combined efforts of The Eclipse staff have garnered enough success to get the news site the five badges.
"We have a very talented group of writers and an accomplished adviser," Robinson said. "I couldn't be more proud of everyone and the work they've all put in this year."

About the Contributor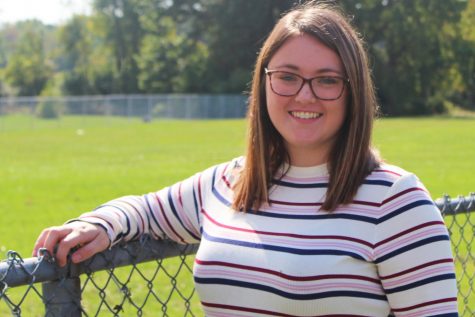 Autumn Prescott, Special Projects Editor

Birthday: Aug. 2, 2001
Hobbies/Interests: NHS, drama club, Freshman Mentors.
Favorite Quote: "Find out who you are and do it on purpose."...