National Police Week celebrates those who protect, serve
Hang on for a minute...we're trying to find some more stories you might like.
National Police Week celebrates law enforcement and what they do for communities, large and small. It will begin Sunday, May 13 and end on Saturday, May 19.
Former President John F. Kennedy designated May 15 as Peace Officers Memorial Day in 1962. On this day, many businesses and members of communities will lower their flags to half staff to honor those lost and injured in the line of duty.
The week surrounding the holiday is filled with events to honor law enforcement officers.
On Sunday, May 13, the 30th Annual Candlelight Vigil will occur at 8 p.m.
The event is held by the National Law Enforcement Officers Memorial, which honors law enforcement officers who have died serving their communities and country.
Sophomore Delanie Schreiber's father is a detective for the Burton Police Department.
She believes National Police Week celebrates officers and what they do.
"It represents how someone tried to change their community," Schreiber said.
My mother is a law enforcement officer in Kentucky, and it makes me happy that our nation chooses to celebrate people who sacrifice so much.
Officers protect us and serve their communities. The least we can do as a nation is honor them and remember those who have died in the line of duty.
Attendance for the vigil is expected to be about 25,000 or more.
Some interesting facts about police officers:
There are 17,985 police agencies in the United States, including federal agencies, sheriff's departments, and local police departments.
The New York City Police Department (NYPD) is the nation's largest police department and was founded in 1845.
The Philadelphia Police Department is the nation's oldest municipal police agency, founded in 1828.
Over 900,000 police officers serve in the United States, of which 12 percent are women.
The names of 21,541 officers who have died in the line of duty are engraved on the National Law Enforcement Officers Memorial.

About the Contributor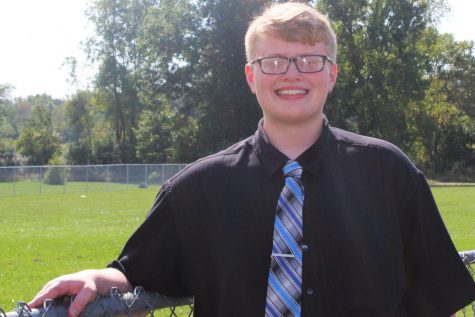 Connor Earegood, Managing editor
Birthday: February 25, 2002
Hobbies/Interests: Hockey statistics, robotics, chess, quiz bowl and trivia, history, Student Council, and Future Problem Solving.
Favorite Quote: "Whatever you do, do it safely, do it legally, and stay out of trouble." -Darrick J. Puffer
Favorite Book: "Fear and Loathing in Las Vegas" by Hunter S. Thompson
Plans After High School: I plan to attend the University of Michigan in Ann Arbor to study electrical engineering, pursuing a career in automation and technology. I also plan to contribute to the fan section of "Winging it in Motown," the SB Nation news site for the Detroit Red Wings, sharing my opinions on the team and its future to continue some form of amateur journalism through college.