United stuns Lapeer, Mid-Michigan
Hang on for a minute...we're trying to find some more stories you might like.
United was active over the weekend, playing consecutive games on the road at Lapeer and Mid-Michigan.
United is a cooperative hockey team with players from Kearsley, Brandon, Holly, and Lake Fenton.
United at Lapeer
United looked to exact revenge against the Lightning on Friday, Jan. 19, after Lapeer beat United on Jan. 3 in a close 5-4 finish.
United got what it was looking for in a 10-2 victory.
Drew Hobson, a Lake Fenton senior, put United on the board early with a goal assisted by Lake Fenton senior Aidan Flick.
Kearsley junior Trevor Keller scored a goal with 39 seconds left in the first period. Hobson and Holly senior Logan Henry assisted on the goal.
United added a power-play goal in the second period.
Lake Fenton senior Alec Copeland scored the goal and was assisted by Kearsley senior Dru Sweers and Holly freshman Colby Polutanovich.
Brandon sophomore Noah Bolton netted an unassisted goal to give United a 4-0 lead.
Lapeer would not be silenced though, scoring twice in 46 seconds.
United responded with a Sweers goal, assisted by Polutanovich.
A goal by Lochlan Hepburn, a Lake Fenton senior, rounded out the period. Bolton and Henry assisted on the goal.
Sweers scored an even strength goal assisted by Polutanovich and Flick.
Hepburn scored his second goal of the night 44 seconds later. He was assisted by Bolton.
Bolton scored his second goal of the night, assisted by Hobson.
Lake Fenton freshman Macgregor Hepburn scored his first goal of the season with 56 seconds left in the game.
Junior Tyler Keller had an .867 save percentage in the game.
United at Mid-Michigan
United took on the Storm on Saturday, Jan. 20, and scored four goals in the third period to win 10-6.
United took an early lead in the first period, outscoring Mid-Michigan 4-3. They kept the lead going in the second, scoring twice and allowing one goal.
Copeland, Polutanovich, and Hobson each had two goals and an assist in the game.
Flick scored a goal and had three assists, his second four-point game of the season.
Sweers and Bolton each scored a goal and received two assists.
Henry had a goal and 16 penalty minutes.
Lochlan Hepburn had two assists, and Macgregor Hepburn received one.
Tyler Keller had an impressive night in net, making 31 saves for an.838 save percentage.
United improves to a 6-7 record on the season with one overtime loss.
United will play its next game at home against Freeland on Tuesday, Jan. 23.
About the Writer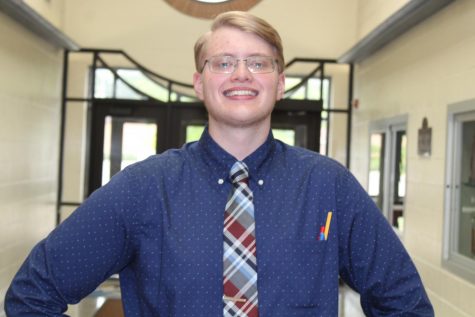 Connor Earegood, Editor in Chief
Class: Senior

Hobbies: I participate in quiz bowl, chess, robotics, Future Problem Solving, and many other "nerd sports."

Future Plans: I plan to...