Weezer's 'Pacific Daydream' disappoints
Hang on for a minute...we're trying to find some more stories you might like.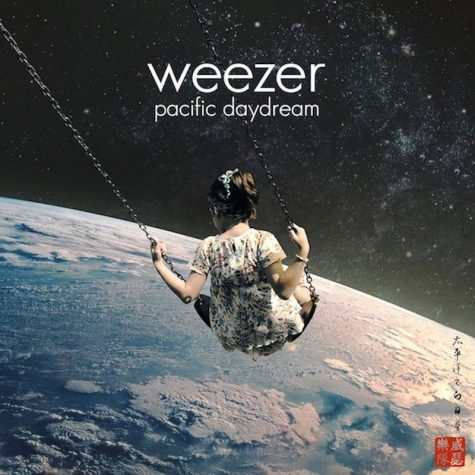 The alternative rock band Weezer redeemed themselves from their decade-long slump with the "White Album" in 2016, and they have followed it up this year with their 11th album "Pacific Daydream."
The first track is "Mexican Fender," which is probably the best track. It starts with a hard guitar riff but quickly becomes a hook-filled pop song. This is a common occurrence on this album, as you will see.
The second song is "Beach Boys," which is about singer Rivers Cuomo's love for the classic pop band The Beach Boys. I like the verses a lot, but the simple chorus is mediocre.
The third track is the popular single "Feels Like Summer," which peaked at No. 2 on the Billboard U.S. Alternative Charts.
The lyrics are interesting and catchy, but the instrumentals and the chorus are annoying. It feels like they are trying to recapture the feel of the "White Album" single "Thank God for Girls."
The fourth track is called "Happy Hour." It is a generic pop song and the lyrics contain confusing references to Juan Ponce de León and Monty Python. It is completely forgettable, and there is no reason I would ever listen to it again.
"Weekend Woman," the fifth song, is one of the most boring songs I've heard in a long time. Definitely the worst song on the A-side of the record.
"QB Blitz," the sixth song, is the slowest song on the album. It is emotional, but the lyrics fall short, with lines like "I can't get anyone to do algebra with me." Cuomo also often fills in the lines with nonsense syllables, showing that he did not put a lot of thought into this track.
The seventh song, "Sweet Mary," feels very underfed. It devolves into a repeat of "Weekend Woman" very quickly.
The track "Get Right," again tricks you into thinking it is a rock song by starting with a guitar riff, but it promptly reveals itself as the pop tune we all knew it would be.
The song "La Mancha Screwjob" demonstrates the real problem with the album as a whole.
Almost all of the songs open with a half interesting idea, but then quickly devolve into the same old harmless pop. The opening of this song sounds like it could be a precursor to the darker upcoming "Black Album", but then morphs into the modern pop sound the rest of the track list has.
The final song, "Any Friend of Diane's," almost feels like a White Album B-side that the producers fixed with obnoxious synthesizers.
Despite all of these faults, I am still hopeful for the rest of Weezer's career. They are not far from achieving legend-status in the rock world, and I hope that they do not waste their potential.