April has some wacky holidays
Hang on for a minute...we're trying to find some more stories you might like.
The fourth marking period is a time full of tests, stress, and nervousness.
So here are five wacky holidays you can celebrate to take your mind off of school. The first two have already occurred, but we at The Eclipse thought you would enjoy knowing about them.
April 12 – Grilled Cheese Day
As a child, I'll bet you had a grilled cheese at least once.
This staple for American schoolchildren is a classic and was celebrated on April 12.
Freshman Gabe Jacobs thinks the holiday is outlandish.
"It's reaching," Jacobs said, "but if there's an Oreo day, why not?"
The sandwich is usually made with American cheese, which melts easily, and sliced bread.
Some may say this sandwich is the best thing since sliced bread.
April 15 – Record Store Day
People have already celebrated the role record stores play in American life on April 15.
The shops were huge up until the 2000s but have fallen victim to the rise of iTunes and other music services.
Freshman Matt Límon thinks Record Store Day will help record stores.
"If you celebrate it, it can bring back older music and forgotten artists," Límon said.
Vinyl records have also become obsolete, making it even harder for stores to find business.
Many record stores are barely around. If you did not support them on April 15, take a spin to a record store sometime this month.
April 18 – Columnist Day
"
It seems like a good idea to celebrate journalists but maybe it won't be acknowledged outside of random trivia."
— Grant Sterling, freshman
Celebrate famed journalist Ernie Pyle, a war correspondent who died reporting on Okinawa on this day in 1945.
Pyle was one of the best war correspondents and many nowadays base their methods on his work.
To celebrate this holiday, simply read a newspaper.
Freshman Grant Sterling likes the idea of Columnist Day.
"It seems like a good idea to celebrate journalists," Sterling said, "but maybe it won't be acknowledged outside of random trivia."
Feel free to read The Eclipse on April 18, as we would love to have your readership.
April 29 – Astronomy Day
Reach for the stars on Astronomy Day.
The holiday is the brainchild of Doug Berger and was created in 1973.
Many observatories and astronomy clubs will be setting up telescopes for the public, and many colleges are holding events before April 29.
UM-Flint held their Astronite, a sort of space celebration, on April 1, and activities included creating craters and designing rockets.
Freshman Laura Kendrick thinks Astronomy Day is  a good idea.
"Astronomy is pretty cool," Kendrick said. "I've always thought it is cool how you can figure out so many things from the stars."
April 29 – Zipper Day
You can celebrate the vital interlocking teeth on our clothing on April 29 as well.
"
Everything has its day, so why not zippers?"
— Cameron Gohs, freshman
The modern version of the plastic and metal devices was created in 1917 by Gideon Sundback.
Zippers are used in many aspects of life, from backpacks to hoodies.
Freshman Cameron Gohs thinks that it is not unusual that zippers are celebrated.
"Everything has its day," Gohs said, "so why not zippers?"
About the Contributor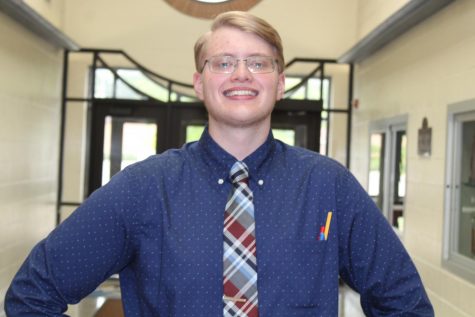 Connor Earegood, Editor in Chief
Class: Senior

Hobbies: I participate in quiz bowl, chess, robotics, Future Problem Solving, and many other "nerd sports."

Future Plans: I plan to...