Lara pursues new interests: dancing, powerlifting
Hang on for a minute...we're trying to find some more stories you might like.
The first thing you notice about senior Erick Lara is that he is a muscular young man with brown hair and eyes. Eventually, you'll come to find that he is also a fun-loving and charismatic guy.
Lara describes himself as both easygoing and friendly. Though he is easygoing, Lara has no hesitation when it comes to pushing himself to do new things.
Lara started dancing for K-Motion this year as the team's only male dancer. He and his team perform at the home basketball games.
Lara's sister, freshman Kaley July, dances with him on the team.
"It's really cool having a guy on the dance team," July said. "Sometimes he moves better than the girls. It makes the dance team more popular with a guy on it, making it more fun looking for people to join. And it's fun to have something to do with my brother."
As the only male on the team, Lara has been questioned and insulted.
"I have had a few people insult me for being on the dance team, and some think it's weird," Lara said. "The people who know me personally have ragged on me, too, but they've given me a lot of support. My dad inspires me to push myself due to everything he has done for my family."
Dancing on K-Motion is fun for Lara as it provides a challenge for him.
"I enjoy dancing because it is something that I'm not good at. That's why I enjoy it — because of the challenge. I love the results at the end of the final performance," Lara said.
Practice happens an average of two times a week. Dancers are expected to practice on their own at home.
But dancing isn't the only thing Lara took a chance to try; he used to be a cheerleader on an All-Star competitive cheer team.
"I just enjoyed the go-go-go atmosphere," Lara said.
Lara said that tumbling was his favorite part about cheer.
"I haven't done cheer in a while, but I wish I could still tumble because that was a big hobby of mine," Lara said.
Unfortunately, Lara was never able to compete along with all of his teammates. He suffered a major injury and could not go into competitive rounds.
"The week before competition, I tore my interior and exterior ligaments in my left ankle. It was caused by a roundoff, of all things. I suffered through some massive hemorrhaging," Lara said.
Lara also works hard to lift for the school's powerlifting team.
Powerlifting started as a program for football players to work out during the off-season. Now it is a club with both male and female students participating.
Lara's practice schedule is anything but easy.
"Monday through Thursday, I work out two times a day. Once in first hour where I show up early for weight lifting, and once after school where I lift with the guys and stay after to continue lifting with the girls," Lara said. "Saturdays and Sundays, we have weight-lifting meets, normally in the morning."
Junior Teven Thompson-Farrior, a friend of Lara's, lifts with him in the mornings.
"He's the best spotter I've ever had. He never lets me put the weight down until I'm done with the reps," Thompson-Farrior said. "He works hard and helps others work hard at the same time. He'll push you, but if you need help he's right there."
Lara pushes himself hard to do well on so many activities that he is almost always at the school and is seldom at home.
"At first it was overwhelming because I also had a job when I started," Lara said. "But it really was no different from football season. I was never home during football, and I'm never home due to dance and powerlifting now."
Eventhough these activities keep Lara busy, he enjoys them.
"They are important to me because others enjoy watching me," he said. "I've noticed that people look up to me for some weird reason, so I do my best all the time so that I don't let anyone who's watching down."
With all the practicing that Lara does, he needs time to relax. In that time, he chooses to play the drums.
He has been drumming since he was in the seventh grade.
For Lara, it is a lot more than just making music. It allows him to escape from the stress of being a high school student and athlete.
It also relieves his anxiety and helps him blow off steam.
"My favorite part is playing with other people," Lara said. "It's a heavy hobby of mine."
In the future, Lara plans to continue playing the drums.
He also wants to continue lifting. He wants to go further with weights and hopes to one day train people to lift.
Lara would also like to try mixed martial arts and possibly go into bodybuilding in the future.

About the Contributor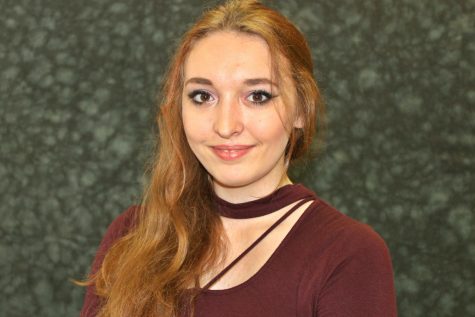 Brianna Horne, Editor in Chief

Birthday: May 11, 2000
Extracurricular activities: Newspaper
Hobbies: Playing violin, hanging with her friends and boyfriend, and horseback riding.
...