Cole Zemore strives to make every day better for himself, others
Hang on for a minute...we're trying to find some more stories you might like.
A Kearsley Hornet for life, Cole Zemore, freshman, pushes for greatness in both his academic and personal lives.
Zemore is a fun-loving student who tries to make everyday better than the day before.
The freshman has short, blond hair, is tall and thin, and loves to help make others' day better.
He describes himself as smart, funny, and honest.
Freshman Skyelar Herriman also thinks Zemore is honest.
"He keeps it real," Herriman said.
Zemore tries to make people as comfortable as he can and make them laugh.
"I'm very friendly," Zemore said.
Freshman Laura Kendrick, one of his many friends, agrees.
"He's fun to be around," Kendrick said.
Zemore is a member of the Hybrid Hornets robotics team. He started robotics in his seventh-grade year.
His job is a programmer for the Hybrid Hornets.
Zemore is also a part of Kearsley's band, in which he plays the trumpet.
"I like to be loud," Zemore said. "I like to toot my own horn. It (band) is pretty cool."
He hopes his participation in FIRST's Robotics Challenge and participation in band will raise his chances of being accepted by the University of Michigan in Ann Arbor.
"It (participation) gives you more options for the future," Zemore said.
Zemore enjoys his family as much as he enjoys extracurricular activities. Zemore has a stepbrother, freshman Ashton Nolan, and a younger brother named Trent, whom Nolan said is "pretty cool."
Entertainment and engineering careers have interested Zemore as of late.
"I am interested in entertainment careers because I love to make others happy," Zemore said. "I am interested in careers in engineering because I want to make money, and I also like to work with technology."
He also has an interest in gaming. He enjoys playing video games for hours with his friends.
"I play video games whenever I have the time, and sometimes when I don't," Zemore said.
One of Zemore's favorite games is Grand Theft Auto V.
"
Everyone deserves to be happy, to be comfortable in their own skin."
— Cole Zemore, freshman
"It's a really fun game, and I could play it with my friends for hours," Zemore said.
Zemore spends a lot of time with his friends in his free time.
Freshman Daniel Fitzgerald enjoys spending time with Zemore.
"We hang out at a lot of social events," Fitzgerald said.
Zemore thinks making people happy and comfortable is key to a successful life.
"Everyone deserves to be happy, to be comfortable in their own skin," Zemore said.
About the Contributor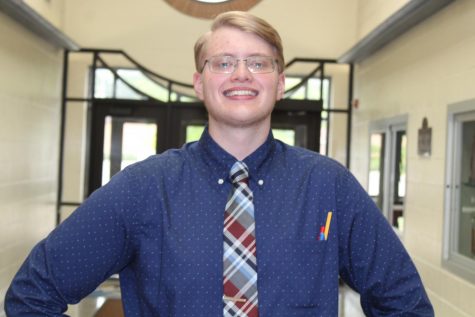 Connor Earegood, Editor in Chief
Class: Senior

Hobbies: I participate in quiz bowl, chess, robotics, Future Problem Solving, and many other "nerd sports."

Future Plans: I plan to...