Dating can be inexpensive while being romantic
Hang on for a minute...we're trying to find some more stories you might like.
Nowadays, it can be hard to find a nice, inexpensive place to take your sweetheart out on a date.
It seems like the only option is to stay at home.
That's cheap but not really ideal if you're looking for something romantic.
Here are some dating options that cost less than $25 near you.
Bowling
There's nothing more fun on a date than a little competition.
A good, local bowling alley is Richfield Bowl on Richfield Road.
You can bowl for two hours for either $9 or $11 per person.  If you bowl sometime from open to 9 p.m., it's the cheaper rate, while bowling after 9 p.m. is more expensive.
No worries, bowling isn't something you have to be good at in order to have fun.
Junior MacKenzie Jeans has been dating her boyfriend senior Hunter Stanley for a year and four months.
"We like the competition of who will be better," MacKenzie said. " We both like to have fun with the sport and not have to be serious with it."
Movies
Sometimes it's nice to quietly watch a movie while sitting next to your favorite person.
NCG-Courtland Cinemas, located on East Court Street, is a nice place to go for a date.
Going to a movie at NCG-Courtland Cinemas is simple but also fun and cheap.
For students with valid ID, tickets cost $4, adults $5.50, and 3D showings cost an additional $2.
Going to the movies with your special someone is really something to consider.
Ice Skating
Ice skating is something that is starting to fizzle out that shouldn't. Even if you've never done it before, it's definitely something to put on your to-do list with your date.
A really good ice rink that's local is the Crystal Fieldhouse on Daly Farm Drive in Burton. The public skate admission costs $5.
If you don't own skates, don't worry, skate rental is only $3.
Ice skating will be an unforgettable experience.
Frankenmuth
Spend your day walking through the town of Frankenmuth. There's so many things to do it's going to require more than one date.
Visiting Bronner's Christmas Wonderland, which claims it's the world's largest Christmas store, going on a riverboat cruise, which is $12 per person, or walking through the River Place shops are just a few reasons why Frankenmuth is such a popular place to visit.
Senior Austin Wycoff, and his girlfriend have visited Frankenmuth to check out Bronner's beautiful Christmas lights.
"We enjoy going there for the lights, just to walk around, go in shops and just be with each other," Wycoff said. "Plus, we enjoy going to Bronner's to look at their decorations and ornaments and such."
Frankenmuth occasionally has special events throughout the town so be sure to check online before planning your date to make the experience even more fun.
Breakfast Date
Breakfast dates are something that should happen more often. There's nothing more special than eating breakfast with someone you love to be around.
Starlite, located on Center Road in Burton, has really cheap but good quality food.
Make sure to get there early, though. It can become quite crowded during breakfast.
Another restaurant to take your date is the new IHOP on Miller Road, which is known for its wonderfully low-priced breakfasts.

About the Writer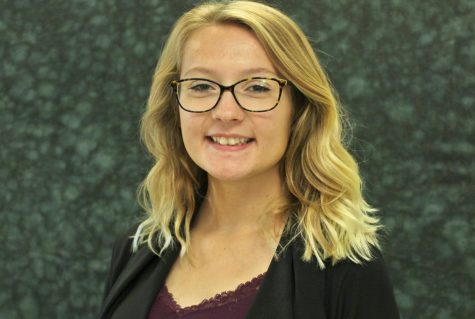 Hannah Hendley, Photography Editor

Birthday: February 7, 2000
Extracurricular activities: Tennis, dance, and float building.
Hobbies: Eating, reading, and drawing.
Plans after...